V-Rod
We are always on the lookout to see what Porsche we can find, especially when we're in London. Very rarely, do you expect to see the brand on motorbikes, however Porsche once designed engines for the famous American company, Harley-Davidson for years on their "V-Rod" (VRSC) model. So, why did Harley Davidson turn to Porsche to help design a motorbike engine? As it turns out, Harley-Davidson were struggling to attract new customers, and looked to collaborate to create a more affordable model to attract new customers.
The engine in the V-Rod is described as being very different to the rest of the normal line-up from Harley-Davidson. Porsche made some changes to the conventional motorbike engine with two "firsts" for the company; water-cooled engine and dual-overhead cams. The 1,131cc motor runs at 9,000 rpm, and was tested at Porsche's Düsseldorf facility where they ran the V-twin (or V2) engine for 500 hours straight to prove reliability. Porsche/Harley-Davidson named the development "Revolution Engine", a truly fitting name for this project.
Porsche always aim to please, and to really appeal to the Harley-Davidson clientele, they spent a lot of time to make sure their engine was every bit theirs. To appeal to the customers, it had breathtaking performance, and dramatic sound, with a Double Over Head Cam (DOHC) valverain, and an electronically controlled fuel injection to produce up to 120hp.
The exact model we spotted, has some unique personal touches, that makes it stand out from other Harley-Davidson VRSC's.
Kansas City Factory
The venture was more than just supporting the design of the engine. The Harley-Davidson factory was built in 1997, through a combined funding from both Harley-Davidson, and Porsche. They both invested $10 million into the factory that was later used to manufacture the V-Rod engine. Sadly, they closed the plant within recent years, in 2019 as a result of declining motorbike sales.
Fan-designs
It seems that there are a lot of Porsche fans, that have dreamt of the German brand to make motorbikes of their own. You may have come across a certain design in 2017 by a keen designer, Miguel Angel Bahri, who created the "Porsche 618 Concept". Not an official concept of course, but it takes inspiration from the 911 Turbo, 917, 918 and 919. The designer has planned it to be an electric sports bike producing 160hp.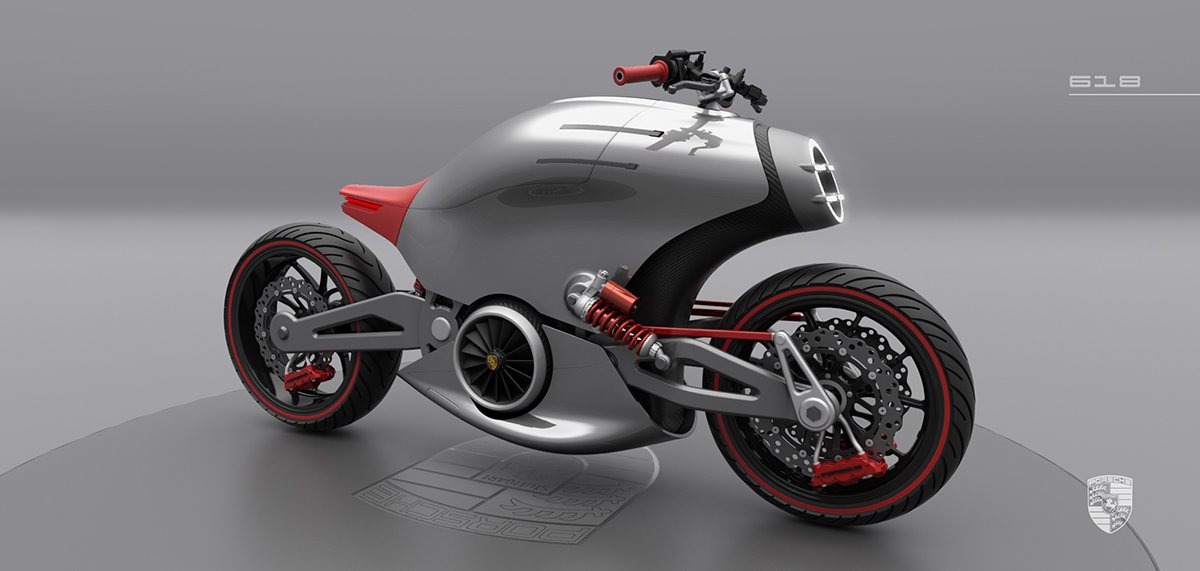 Another pair of Porsche enthusiasts, had a bike created by a bespoke bike-maker: CustomWolf, limited to just 9 created. This beautiful bike takes inspiration from the iconic designs, and is detailed with Porsche logos. They created the "Porsche Tribute Bike" as a Street Fighter bike, painted in black with several gold plated design highlights. The engine is a 1,851 cc from S&S Cycles with 5-speed Harley-Davidson transmission. See the image below of this formidable design!